What is Formats Customizer?
Formats Customizer is a unique way to remove document types that are not used from application file dialogs for the commands: "Open", "Save", "Import", "Export"
Easy to use and powerful usability integrate seamlessly into several programs
Support of popular applications from Adobe Systems, Microsoft, Corel, Quark
Freeware utility
Who Needs Formats Customizer? You do if you've ever:
Were frustrated by the overwhelming number of file types listed by your dialog boxes
Took a long time to find the file that you wanted to open, because it was buried in a list of other file types
Wanted a solution that was quick, easy, and instantly compatible with your favorite software applications
   Modern applications, specifically graphic editors, become much more complicated with each version released. They support more and more various types of documents many of which are not even used by a large number of people.
   How many times per a day do you use an operation to save or open a document and commands to import or export data?
   Each time you waste time on a large array of choices of unnecessary document types. To find and choose the necessary format is not quick and simple anymore. But using Formats Customizer, you can hide all unnecessary types and speed up your workflow significantly.
What are the methods to use?
   Let's list all the methods which exist:
1. Install applications selectively, choosing the necessary types. However, not all products support this feature. Plus, you could have possibly absent formats that you will need later. Not a good long-term solution.
2. Delete a few files, though the application could create errors or stop working. Not recommended at all.
3. Use the old versions of products since they can support fewer document types. Just be aware that you are missing out on many of the new and improved product features as well. Which also makes this a bad solution to your problem.
4. Use the Formats Customizer and make it easy. Simply specify what types of files and documents to clean or remove from the list in save or open dialog. It is an excellent method that scales with your needs.
Results of using Formats Customizer
   These screenshots show exactly what Formats Customizer does. Remove document types that are useless for your needs leaving you with a cleaner, more streamlined selection choice.
Now you choose only those file types, which you actually use.
Simple in use
   By carefully picking out the types of file formats that you want to keep, you can quickly and easily see which file types you want to keep. When you use a compatible application, the specified file types are hidden and you are left with only the types that you want. Anytime you like, you can quickly turn the filtration list on and off to suit your exact needs.
   See help for more information.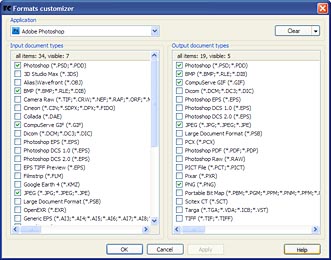 Supported applications
   TheCurrent Version of Format Customizer supports:
| | |
| --- | --- |
| | Adobe Photoshop |
| | Adobe Dreamweaver |
| | Adobe Illustrator |
| | CorelDRAW |
| | Corel PHOTO-PAINT |
| | QuarkXPress |
| | Microsoft Office Word |
| | Microsoft Office Excel |
| | Microsoft Office Power Point |
| | Microsoft Office Publisher |
| | Microsoft Paint |